The secret to getting a perfect lawn cut every time starts with your mower's blade. If you always want a great looking lawn, then a sharp, well-balanced lawnmower blade is a must. A dull one, on the other hand, will cut, but it will shred the tips of your turf, and the lawn will look uneven.
After a few days, those ragged ends can turn brown ruining the appearance of your grass, even worse the damaged tips become entry points for disease. So, you'll want to inspect your blade at least once a year. However, if you are mowing where the conditions are sandy or on rough terrain Dickerson Landscaping and Lawn Care recommend inspecting your blades at least once a month.
Part I
It's always a best practice to review the safety information in your lawn mower operator's manual before any maintenance starts. If you can't find your copy of this material, you can usually find the manual online at the manufacturer's website for downloading and review.
Depending on your lawn mower model, check your manual for the mower blade removal process. In some instance, not all parts or procedures are the same on every mower.
Cover your work area with cardboard and make sure the service area is outside or in a well-ventilated area. If any oil or fuel leaks out, the cardboard will absorb the fluid, plus it will help prevent mower scratches, and it's easy on you the knees if you do not have knee pads.
Part II
Next, go ahead and disconnect the spark plug lead. That will guarantee the motor won't accidentally start while you're servicing the mower or removing the blade. Do remember, even with a dull mower blade, it can still cut you. We also recommend that you wear gloves and be extra careful when handling the blade.
It is always best to drain the mower of any fuel before you start. That eliminates any possibility of spilling fluid onto the ground. Also, this allows you to inspect for any sediments which may have built up inside the fuel tank.
Now, tip the mower on its side and make sure that the air filter is up, and the oil dipstick is down. That will prevent the oil from spilling into the air filter area. With the mower on its side loosen the blade's bolt by turning it counterclockwise with an adjustable wrench or breaker bar.
Part III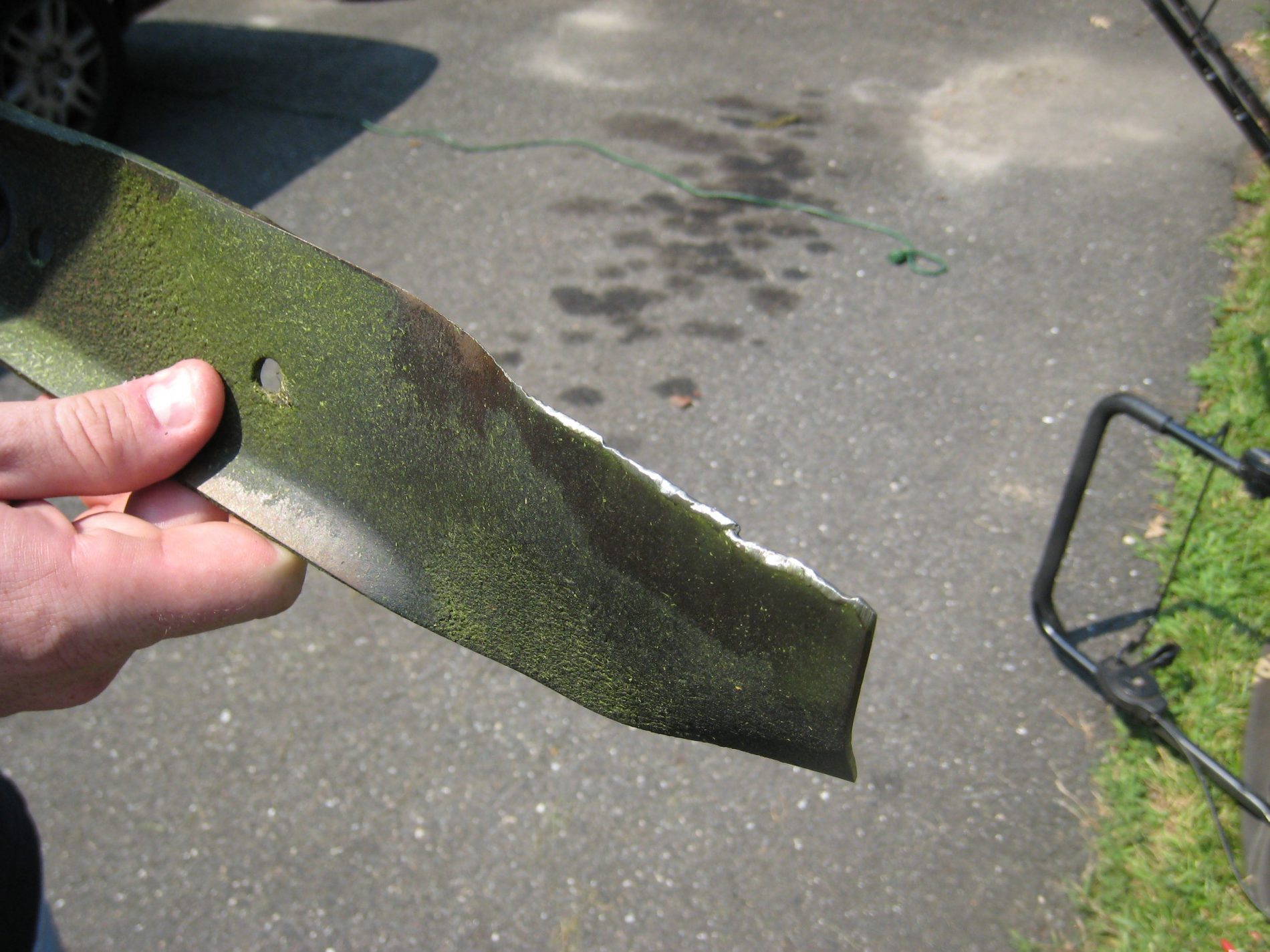 Once the blade has been removed inspect it for nicks, any missing blade parts or dullness. Depending on the wear your mower blade may only need sharpening. However, if it is worn and the cutting edge is no longer straight, it is time to replace it.
If you must replace your blade Dickerson Landscaping and Lawn Care recommends using genuine dealer parts, per your manufacturer's recommendations. That ensures your mower is running safely and at top performance levels.
When you reinstall your blade, double-check that it is seated correctly with the sharp edge close to the ground and the "sail" or turned up part is toward the top of the lower section of the mower.
Now torque the bolt down tightly according to the instructions in your operator's manual. Torqueing will take some strength to hold the blade in place. With a block of wood get your weight behind the wrench and tighten the bolt(s) securely.
Once that's completed stand the machine up and reattach your spark plug connector. Add new fuel, and you're ready to test your mower. Do not be surprised at the difference a sharp blade makes on your lawn.
Did you find "Lawn Mower Blade Tips for the Tallahassee Do-It-Yourselfer" informative? Then check out Irrigation Lawn Care for a Healthy Tallahassee Yard. (Questions & Answers) we think you'll find it interesting too.