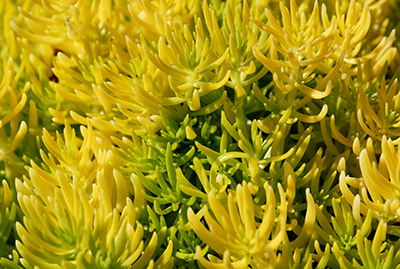 Succulent plants offer a unique addition to gardens and landscaping. Because of their growing habits, succulents can be used as an attention getting focal point or tucked in unsuspecting spots – hopefully provoking an 'Oh, wow!" from friends and visitors.
Because Florida does not have a truly dry season, care needs to be taken to plant succulents in well drained, sandy areas. The versatility comes to bear when you plant succulents in containers; terracotta pots, pots with unique shapes, and/or bold colors. Soil conditions are easier to monitor and maintain if succulents are grown in containers and have the added plus of being able to bring the containers indoors during the cooler months for a fresh summer feel.
Succulents can also be grown in pockets on rock walls, rock gardens or on stone waterfall features. You can mix and match succulents in the same container, plus they are easy to propagate. Succulents are a fun addition to any garden or landscaping, easy to care for, and come in a wide variety to suit your personal taste and needs.
For more information: https://gardeningsolutions.ifas.ufl.edu/plants/ornamentals/succulents.html
Photos credit: Keri Leymaster & Thomas Wright